05 Mar

Canon: A Rich History of Success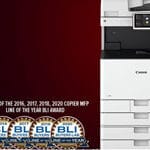 Winning 4 out of the 5 prestigious Line of the Year Awards from 2016 to 2020, plus 33 Buyers Lab Awards over the last decade, Canon comes highly praised by Keypoint Intelligence, the world's leading independent authority for document imaging.
Canon was chosen by Keypoint Intelligence as the winner of the Buyers Lab 2020 Copier MFP Line of the Year Award.
Look no further for a brand that delivers.
Well designed, simple to use and easy to maintain, these are just some of the accolades heaped upon Canon's A3 multifunction print (MFP) devices by Keypoint Intelligence. The story continues when it comes to reliability and usability, with our MFP line described as the standard-bearer in the industry.
Canon creates devices with our customers in mind, where the integration of universal capabilities and features ensures ease of use both at the device and from the workstation. Even the pickiest users can enjoy a seamless experience; each device is designed with the same touchscreen that is customisable to suit individuals' preferences. The simplicity of pairing mobile devices with Canon's latest MFPs means effortless printing and scanning, from anywhere, at any time.
A machine that consistently delivers for its users isn't a luxury, it's a necessity — Canon's MFPs have once again proven to be the industry leader in the A3 category.
Achieving a BLI Line of the Year Award is no small feat; it recognises the quality of Canon printing solutions and the agility of the business to meet the ever-changing needs of our local Australian, and global customers.
Discover how you can change the way you can gain control of your office printing and profit from document scanning workflows with just one platform by calling TCT today.
Robert Brown
5/03/2021
Follow us on LinkedIn:
Related Articles:
The Ransomware Tide is Rising Worldwide
Third Party Data Breaches Endanger Every Company