06 Apr

Cyber 360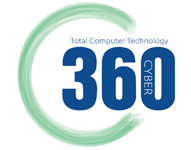 The cyber threat landscape has evolved significantly from the early days when it used to be mostly about kids writing viruses for fun. Today, cyber-crime is an attractive business with huge financial opportunities.
There are two ways hackers can get into your company's network — vulnerable technology or you. Well, not just you. It could be you, your CEO, or any of your co-workers.
To combat the evolution of cyber-crime, TCT has developed Cyber 360 Portfolio to protect your business data, network and company reputation.
We have worked with our leading security vendors to build a multi-layered approach that ensures your network is resilient to cyber-attacks.
Prevention is better than a cure.
Your company's business systems are like your own health – it's always easier, cheaper and less disruptive to normal life when you take steps to prevent problems rather than have to cure them when they, inevitably, arrive.
As any company that's experienced a cyber-attack will tell you "I wish we had been more proactive around this issue rather than reactive – we would have saved ourselves a lot of heartache and money!"
If you don't have a comprehensive cyber protection solution in place that protects your business, you need to talk to a TCT Consultant today.
Robert Brown
6/04/2018
Follow us on LinkedIn:
Related Articles:
Hackers rolling in it!
Notifiable Data Breaches (NDB) Scheme & Your Company