31 Jan

Not all toners are created equal!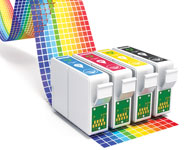 You might be surprised to know that using NON genuine toners in your printer can void its warranty.
Kyocera recently ran a comparative test against its own toners with 9 other Non-Genuine toner cartridges.
Here's what they found:
3 of the third-party toners caused damage to the fusers of three test devices.
11 of the 15 toner cartridges tested from one supplier expired much earlier than expected.
84% of the printed documents produced by compatible toner devices had minor defects limiting them to internal use only.
8% of the printed documents produced by compatible toner devices had severe defects rendering them unusable.
100% of the genuine Kyocera cartridges worked reliably, with no out-of-box failures, no early-end-of-life failures or other defects.
100% of genuine Kyocera toner cartridges reached their full rated page yield. On average the page yield of the compatible colour toner cartridges (Cyan, Magenta and Yellow) was 17.6% lower than the genuine Kyocera colour toners.
Kyocera have spent decades developing technologies that consistently deliver lower running costs than their competitors.
Toner is not a "one size fits all" consumable, and only genuine toner can deliver the quality, economy and reliability you expect when you purchase a Kyocera device.
Don't waste your time searching online for a third party comparative toner for your Kyocera printer.
You may save a little on the toner cartridge, but it will cost you more in the long run, with voiding the warranty, changing the toner more frequently and producing poor print quality.
Robert Brown
31/01/2020
Follow us on LinkedIn:
Related Articles:
7 Reasons to Switch to Microsoft O365
Managed Services, helping small businesses thrive