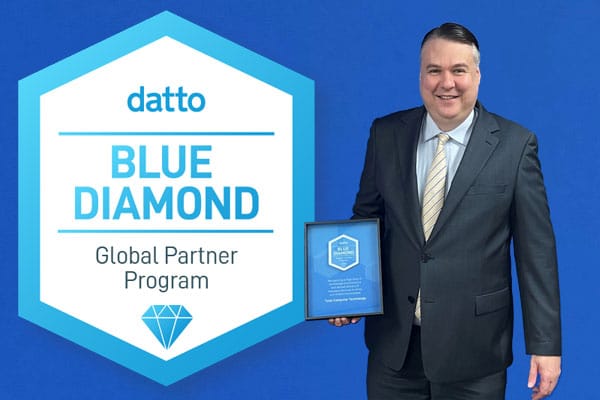 04 Mar

TCT Achieves Datto Blue Diamond Partner Status

January 4, 2022 — Total Computer Technology (TCT) today achieved the Blue Diamond Partner Status with Datto, the world's leading provider of IT business continuity and disaster recovery (BCDR) solutions. Datto Blue Diamond status represents the top 2% of the company's partners, worldwide.

TCT is a full service MSP and IT security provider that works with the SME market. We have been consistently meeting the high standards of performance to qualify for Blue Diamond status within Datto's Global Partner Program, the highest classification provided by Datto. Blue Diamond status includes many exclusive programs and benefits designed to support further enablement and business growth.

We are thrilled to be recognised as a Datto Blue Diamond Partner. This allows TCT to provide our clients with a proactive approach to higher levels of cyber resilience and a quick recovery from any server failure without having to invest in redundant hardware.

What Does This Mean for Our Clients?
We already maintain strong working client relationships at TCT, but this new Blue Diamond partner status adds extra peace of mind for our clients in knowing that we adhere to the highest standards of excellence as outlined by Datto. Additionally, it gives TCT access to the top Datto support technicians, which adds even more depth to our ability to support Datto solutions.

Our team knows the technology inside and out, so whatever the data backup need, TCT can help clients leverage Datto to its full potential. Our clients are able to rest easy knowing their data is protected, so they can focus on their business.